A commercial loan is a type of loan that is available for businesses to fund growth, equipment, property, and more. Depending on the type of loan, how much money you need, and your credit history, the down payment for commercial loans varies.
That might not be the answer you're looking for, but a commercial loan could be the opportunity your business needs. If the down payment is a major concern, it might bring some comfort to know that there are a number of commercial loan options available to businesses at different stages and of different sizes that come in ranges of affordability.
Although selecting the right loan requires a good amount of research on your end, you can get started with this blog post, which details popular loans to choose from and the down payments that come with them.
How is a down payment determined?
Some commercial loans require a set down payment that is a predetermined percentage of the total amount of the loan. Other business loans have a down payment amount that fluctuates depending on:
The type of loan
Amount of money loaned
How the loan will be used
The business owner's financial profile as a consumer and business owner
During the loan application process, a number of factors will be taken into account, including your borrowing and financial history. Typically, with a strong financial history, you can receive a lower interest rate and will be required to pay a lower down payment.
What are the most common types of commercial loans?
There are many types of commercial loans, and each has unique requirements for the amount required for a down payment. There are four commercial loans that are best suited for different types of businesses, and each varies in the amount of down payment required. These are:
SBA loans
Commercial real estate loans
Business lines of credit
Term loans and short-term loans
SBA Loans
SBA loans are one of the most popular loans available for businesses. SBA loans are offered by the Small Business Administration, an agency of the federal government. The eligibility requirements are stringent, and many businesses find it difficult to get approved.
The two most common types of SBA loans are:
SBA 7(a) loans provide small businesses with working capital or as a way to fund a real estate investment.
SBA 504 loans are used to assist in business growth through the purchase of a new building, equipment, or machinery. They can also be used to fund builds or upgrades to facilities.
Both require a down payment of between 10-20 percent of the loan.
Although the two SBA loans listed above are the two most common loans, the SBA provides loans that do not require a down payment, such as the SBA microloan and SBA CAPLines program. However, most of these loans are for specific types of business lenders, so be sure to investigate whether you are eligible before applying.
Commercial Real Estate Loans
One of the most common reasons that businesses seek out a loan is to purchase commercial real estate. Because it is one of the most significant financial investments a business can make, there are many commercial real estate loans available. Careful planning and saving will take time, but it is required if you want to receive this type of loan.
Business Lines of Credit
Unlike the two options we have already discussed, a business line of credit is not a lump sum of capital. Instead, a business line of credit is the amount of capital that can be used when it is needed. In other words, you are only paying off the amount that you have used.
You might think of business lines of credit as similar to a credit card. However, business lines of credit differ in that they generally have lower APRs and give you access to cash. You are only required to pay interest on the funds used.
Although there are no specific requirements for qualifying for a business line of credit, some require collateral, and your lender will look into your financial history to ensure that you are a trustworthy borrower.
Term Loans and Short-Term Loans
Short-term loans are essentially term loans with a shorter payback period. A term loan is a traditional loan that is paid back with interest over a time period determined by the lender. Term loans are often monthly payments while short-term loan payments are often weekly or even daily.
You are not guaranteed to receive the amount you have apply for; instead, a lender provides the amount they have determined you will be able to feasibly pay off, based on your business's financial profile.
What should the down payment for commercial loans be?
You might consider contributing more than the required minimum down payment if it is financially feasible. This way, you pay less in interest that comes with the loan. More down payment, also known as "equity injection" can help provide better loan terms and improve your monthly cash flow.
Ultimately, it is important for you to find the right loan for your situation. Taking out a loan is a serious financial commitment. Once you have completed your research, be sure to connect with an expert lender so that you are positive that the loan is the right one for your business.
Find expert consultation with Crews.
If you're wondering about the down payment for commercial loans—or any of the many details that go into business loans—partner with a lender at one of Crews Banking Corporations' four banks.
Our experts are here to help guide you through the loan process—from finding the right loan to undergoing the application process—to ensure you are in the best financial position to help your business succeed and your community grow.
Interested in learning more about commercial loans? We're here to help. Contact us today!
About the Author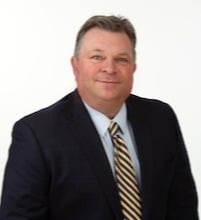 Todd Rinehart
One of Southwest Florida's leading business bankers, Todd joined the Crews Family of Banks in March of 2019. He has experience in all aspects of the banking industry, earning a reputation for providing exceptional service to his clients.
Todd started his banking career in 1978 while still in high school in Cape Coral, working part time as a high school cooperative education student while attending school full time. His positions have ranged from branch manager to senior vice president and senior lending officer. He has a thorough working knowledge of lending fundamentals, credit analysis, interest rate risk, and financial regulatory management and reporting.

Todd graduated from the Florida School of Banking at the University of Florida in Gainesville in 1991 and the Graduate School of Banking at the University of Colorado in Boulder in 1997. He earned a bachelor's degree in business management at Barry University in Miami Shores, Florida, in 1999.

A former chairman of the Cape Coral Chamber of Commerce, Todd serves as scholarship director for the Southwest Florida Junior Golf Association. He has been a board member of the Rotary Club of Cape Coral and a Big Brothers/Big Sisters of Southwest Florida volunteer.